Congratulations to Lululemon on launching their first footwear line tailored specifically to fit women!
Lululemon saw the value in Volumental's data, aggregated from more than one million 3D foot scans of women's feet from around the world. Based on these millions of foot scans, this data helped them develop the first-ever running shoe designed specifically for women's feet.

How much does Lululemon's Blissfeel shoe cost? Their first female-only running shoe costs $148.
The timing of their announcement couldn't have been better, dropping the news on International Women's Day, March 8, 2022!
With the feeling of fit in mind, Sun Choe, Lululemon's chief product officer, said, "the science of feel principle" was their primary focus.
They are in a fantastic position as Lululemon has the expertise in fabrics, which is a necessary part of performance footwear development. Material can create the right amount of tension and stretch needed for a perfect fit. Beyond shoe fabrics, they also engineered a compression to support what our data found - that adding an extra cushion in the heel was necessary.
The power of FitTech™ also allowed them to build a new 'last' specific to women's feet.
Choe said they wanted to enter the footwear industry with women in mind, and performance shoes are frequently designed for men first and adjusted for women later. They wanted to change this.
Not only are performance shoes made for men first, but this published research shows the significant differences between women's and men's feet.

"Lululemon's approach of building a completely new shoe-last from scratch for women's shoes is based on our research and our aggregate foot data derived from over a million female 3D foot scans," said Ales Jurca, VP of footwear research at Volumental. "I'm confident that the shoes will fit women's feet much better than using the 'shrink it and pink it' approach, which is often used in designing women's shoes."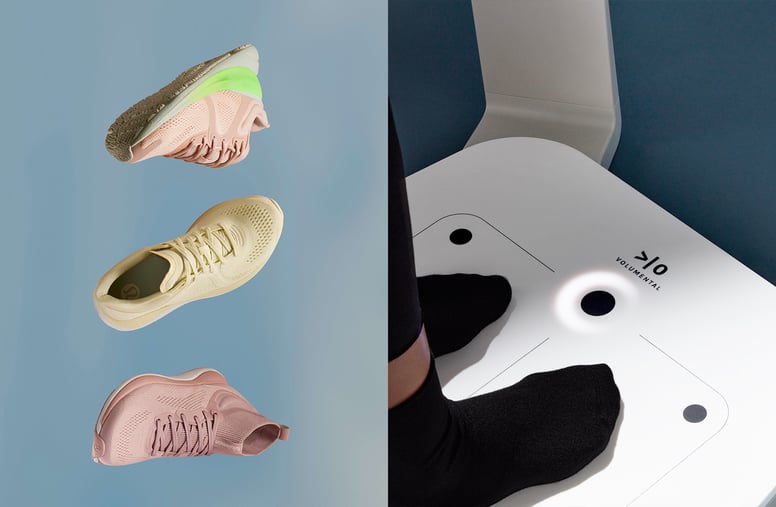 If you're new to footwear industry lingo, the term 'shrink it and pink it' refers to an approach where women's shoes are adapted by following men's shoe dimensions, given a pink color option, and then sized down to create a women's performance shoe.
If you'd like more details on how FitTech can help your brand, store, or e-commerce businesses, these articles will help guide you.
Yes, you can use a 3D scanner to create your brand's custom lasts. A shoe last is the primary determinant of the inner shape of a shoe. Lasts are typically made from a wooden, plastic, or metal object with a shape similar to that of a human foot to form a shoe during the shoe manufacturing process.
Why are shoe lasts and wear tests important?
"Wear tests are crucial to verify and fine-tune the shoe's last shape. In the development process, Lululemon developers tested prototypes with women in three rounds of wear testing. With the support of Volumental's insights and 3D scanners, they were able to identify fit testers that represent the variety of their customers' feet", explained Jurca.
If you're another brand that wants to lead in women's performance shoes, you can do so by using retail technology based on science. Not the old ways of 'shrink it and pink it.'
You can harness the power of retail technology explicitly designed for shoe retail and manufacturing using artificial intelligence, computer vision, machine learning, and 3D scans.
It's no secret that other leading footwear brands are leveraging FitTech to create a flawless fit for women, so there will surely be more to come.
But, "with the focus on fit, function, and look of the new women's running shoes, Lululemon will definitely disrupt the market," said Jurca.
"Bodies of the same height come in many different shapes and sizes. Similarly, our research shows that feet of the same length come in different widths. If footwear brands really want to fully tackle fit, they should be considering multiple widths in each size," suggested Jurca.
This women-specific footwear launch is reminiscent of Reebok's considerable success in the 80s when they launched the first fitness footwear - exclusively for women.
"Big brands followed, but Reebok's annual revenue rose from $3 million to $1 billion in just 3 years. Maybe Lululemon's running shoes will have a similar success story," said Jurca.