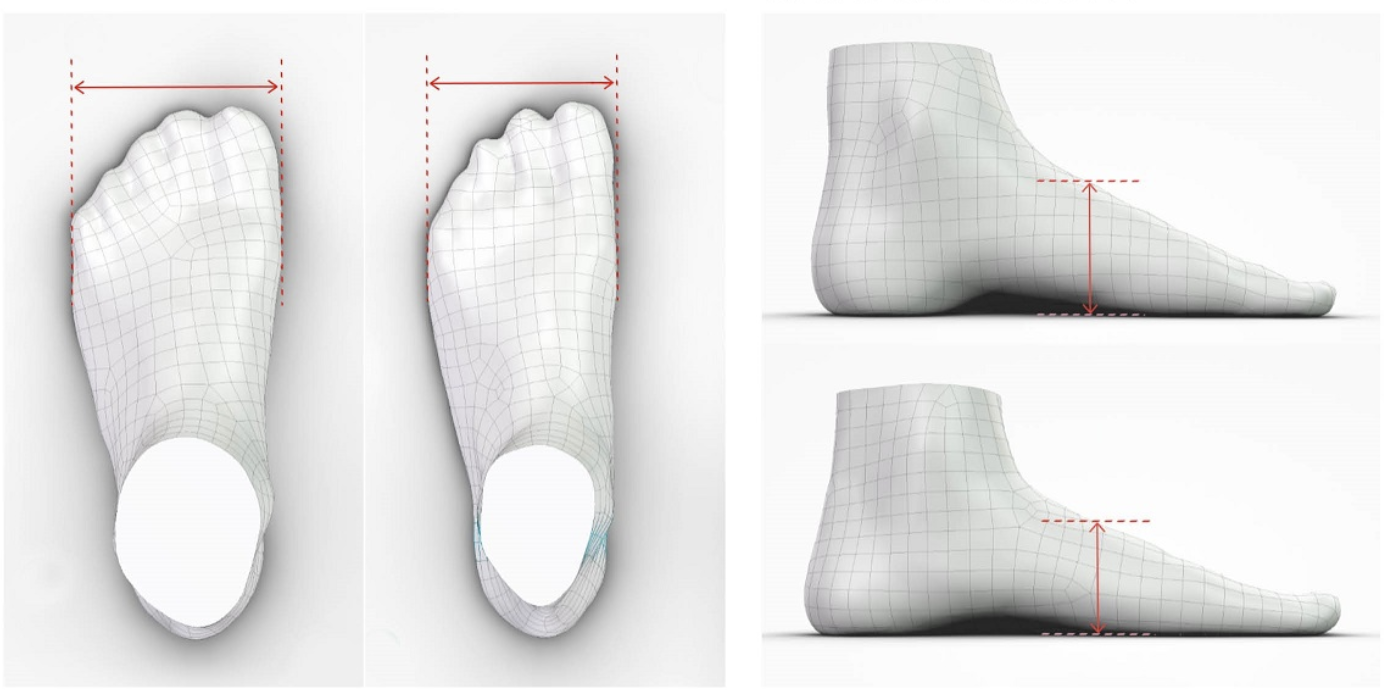 Foot measurements should be the most essential data in order to design and develop good fitting shoes. Makes sense, right? Well, if all of us being a part of the footwear industry are truly honest, we should admit that most footwear brands have very limited or no information about customers' feet. The recent installations of 3D foot scanning technology into footwear retail makes it possible to collect large data sets of 3D scans of customers' feet. These data sets provide new opportunities for research of foot dimensions and shapes. Findings of such research can widely improve the fit of footwear if being utilized in the design process.

We shared several novel insights about foot shapes in our open access scientific paper 'Analysis of 1.2 million foot scans from North America, Europe and Asia'. Reading a scientific paper can be hard and boring for most footwear designers, so in this article I would like to point out the most important findings that footwear brands should consider when designing shoes.

During a visual inspection of scans that were used in this research we observed that some scans were extremely narrow or wide. Further analysis of feet that were very similar in length showed a large foot width variety. Widths of men's feet of length class 270mm range from 94mm to 110 mm even after we removed 5% of extremely narrow and 5% of extremely wide feet. The following video demonstrates a variety of feet that are 270mm long.
The difference between narrow and wide feet is so large that it's impossible to design a shoe that would fit every customer. Footwear brands should be offering different shoes for narrow, medium and wide feet, otherwise they are missing out on a large part of customers that can't get perfect fitting shoes.

We observed a similar variety of instep heights. After removing 5% of scans with extremely low instep and 5% of scans with extremely high instep, instep heights of men's feet in lengths class 270mm range from 55mm to 71mm. Most shoe styles have some kind of instep height adjustment system such as laces. Still, shoe designers should more explicitly consider the large variety of instep heights. The following video demonstrates the variety of foot-instep height of feet that are 270mm long.
The latest skates from Bauer are a perfect example of a footwear brand that's getting it right; they're using data points from their customers' feet in their R&D process. Here's what they say on their homepage: "Bauer performance skate fit system - built from the data science and analysis of 800,000; foot scans. Choose your style first. The vapor collection is designed for players who put a premium on agility and lateral movement. The supreme collection is engineered for players who value straight-away speed and powerful acceleration. Each collection is available in three distinct fits – so every foot shape is covered. Now, every player gets to choose their own performance profile and their optimum fit."

Another great example of a footwear brand that understands the variety of feet is New Balance. They have been offering shoes in multiple widths per size for a long period of time. The results of our foot analysis show that this makes perfect sense.

Shoe designers of other brands should consider the variety of feet when designing footwear, and test their prototypes with fit testers that represent customers of all different foot dimensions in order to make sure their shoes will fit the large variety of customers.