Volumental
Mobile App
Putting the perfect fit in the hands of everyone - 3D scanning from everywhere your customers buy.

Solve fit. Solve returns. Get sized from anywhere at any time.
Reinventing the fit experience.
E-commerce is growing faster than ever before. Personalized recommendations help you convert better, leading to higher order value and lower returns.
68%
Of online returns are size-related
+70%
E-commerce returns rose 70% in 2020
100-200%
Average E-commerce returns are 2-3 times higher than in-store
The App -
Scan, Shop, Buy
Finding the perfect fit has never been so easy.
Omnichannel
Deliver fit experiences across marketplaces.
Powerful
State-of-the-art AR scanning from everywhere your customers buy.
Accurate
The highest level of accuracy on the market.
User-friendly
Intuitive and easy-to-use.
Revolutionary technology
No reference object required. Get fitted in no time.
AI and Machine Learning
Improves and becomes even more intelligent over time.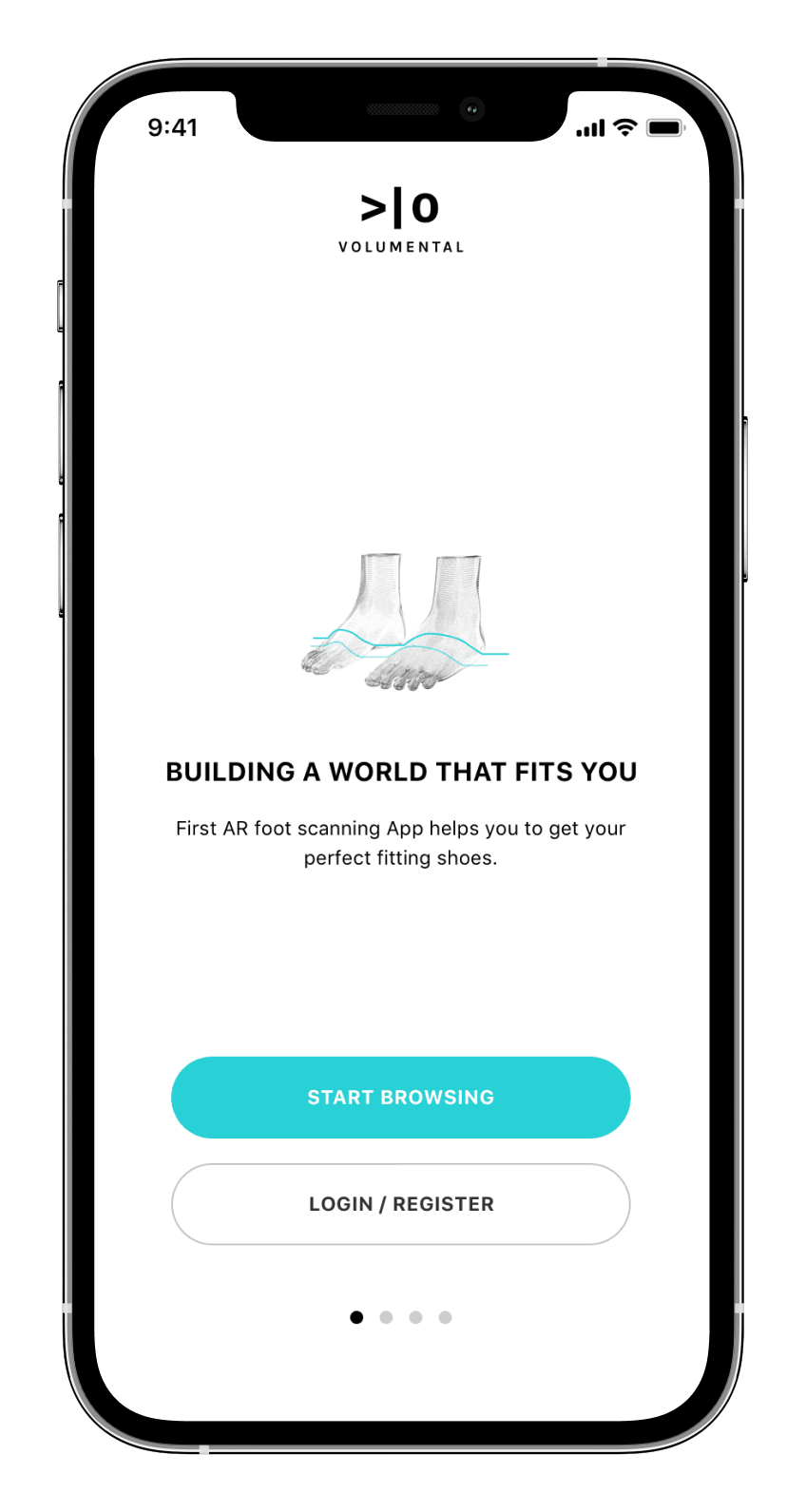 The power of millions of scans in your hand.
Machine learning algorithms drive the best recommendations based on millions of 3D scans and actual purchase data.
The app helps you:
Reduce Returns
Enhance customer experience
Get hyper-personalized
Increase conversions
Become more sustainable
Improve inventory management
How It Works
The world's first foot scanning technology on mobile devices that does not require a reference object and awkward gymnastics moves.
SCAN
3D scan your feet through a state-of-the-art app.
SHOP
Get personalized shoe recommendations in your size based on our proprietary Fit Engine™.
BUY
Pick your preferred style and click to purchase your perfect fit.
$595/mo
1 year: $6,500 - save $640 on a
yearly subscription


Scans
Free


Personalized recommendations
$0.4/API call



Shopper profiles
$0.5 per customer/year


Integration and onboarding
$5,000
$1,150/mo
1 year: $12,500 - save $1,300 on a
yearly subscription


Scans
Free


Personalized recommendations
0 - 100,000 calls: $0.3/API call
> 100,000 calls: $0.2/API call


Shopper profiles
$0.3 per customer/year


Integration and onboarding
$10,000
$1,995/mo
1 year: $22,000 - save $1,940 on a
yearly subscription


Scans
Free


Personalized recommendations
0 - 100,000 calls: $0.2/API call
> 100,001 calls: $0.1/API call


Shopper profiles
$0.1 per customer/year


Integration and onboarding
$12,000
What is the Volumental Mobile App?
Our 3D-scanning app reinvents the sizing experience by allowing customers to scan their feet - without reference objects or awkward gymnastics moves - and get personalized shoe recommendations. Machine learning algorithms give customers personalized recommendations based on millions of 3D scans and actual purchase data. Simply shop, buy, from anywhere you are.
How does the technology work?
We use augmented reality (AR) to achieve a great user experience while also collecting enough data for our algorithms to accurately understand the key characteristics of each shopper's feet. In building the Volumental Mobile app, we needed to solve a range of complex technical problems.

Camera tracking
Accurate 3D foot measurements is hard to achieve, even when you have laser sensors in the camera, like Lidar, that can measure what they see. In Volumental Mobile, we don't use Lidar or other depth sensors for measuring because we needed a completely different approach to get the accuracy we need in order to provide great size recommendations. Instead, we rely on correctly tracking where the camera is within the room. Tracking the camera's location within a space is a key feature of Apple's ARKit that enables Augmented Reality experiences like ours. However, we had to create our own camera tracking that is far more precise than Apple's in order to scan feet accurately in a wide variety of settings. In order to achieve this, we did thousands of experiments with an industrial robot that never gets tired of doing the exact same camera movement again and again. Solving a hard computer vision problem better than anyone in the world, in order to get accurate size recommendations, is just one example of many technical challenges we have overcome to deliver a user-friendly product.

Foot detection
We have scanned 10 million people in retail stores all over the world in the last few years. For the mobile app, we've had thousands of use-testers taking top-down images of their feet at home, with and without socks, to make sure our app will work anywhere. This exercise showed us how people intuitively think about photographing their feet and helped surface common user errors that shoppers would make. This information directly informed the design of our user interface (UI). Further, this data is now also a part of the machine learning behind the foot detection algorithm that makes using the app faster and easier than other options on the market.

Recommendations
Because Volumental has already scanned millions of people and paired those scans with actual purchase data of what shoes those shoppers chose, we have a statistical understanding of what kind of feet fit in what styles and sizes of each shoe. This means that we are able to use existing foot data and match it to scans from our app in order to recommend the likeliest fit for each shopper.
How do you work with UX?
From the initial idea through the entire development cycle of the app, the User Experience (UX) was integrated every step of the way.

We started off by inviting real shoppers to do user testing in a lab setting. By doing so, we could observe them and capture their feedback as they were using the app. Because the experience is based on AR technology it's even more important to be able to see the users and how they interact with the technology, so that we might find ways to improve.

Next, we moved on to remote testing, where shoppers tried out the Volumental Mobile app in their homes. We started discovering new obstacles and possibilities for improvement that were different from the ones observed in the lab setting. These nuances between lab and home usage allowed us to really nail down the UX.

Finally, we started testing with larger samples of users to track UX metrics such as scan success rate and scanning time. We've used a combination of methods to gather all the insights we needed to make informed decisions about the development of the app.

We've also partnered with some of our retailer partners to test the app within their environments. Through these collaborations, we've been able to gather additional data that has helped us validate the performance of the UX and ensure that we deliver the best possible mobile fitting experience for them to offer to their shoppers.
How much does it cost?
We offer a value based pricing package. Learn more about pricing here.
How does integration work?
Integration made easy. Our solution works for your existing iOS app and for customers without an app. Let us tell you more about how to get started by getting in touch with sales@volumental.com
"Very cool. I have not seen anything so interactive with measurements like that. It was very easy to use and the instructions were clear and concise."
"Easy to use and fascinating results."
Learn more about our mobile solution