You have to go back 9,000 years to find the earliest proven evidence of shoes in the form of sandals worn by Native Americans. Cavemen during the Stone Age are also believed to have worn sandals, likely made from straw to protect the soles of their feet.
While no shoes from that time have been found, cave art discovered in the Cave of Altamira in Cantabria, Spain depict hunters wearing animal hide and fur boots on their feet. While catching small, nimble prey like rabbits was certainly not easy in that era, the hides would have been an enticing and comfortable material for prehistoric man's feet. Let's be honest, though, proper fit way back then was far less important than warmth and protection.
X-Ray Fitting
Fast forward to World War I when a fluoroscope, using X-ray capabilities, was first developed for shoe-fitting purposes. The fluoroscope was invented by Thomas Edison in 1896 for medical purposes to study the internal structures and fluids in the human body. It is generally believed that during World War I, Dr. Jacob Lowe with the U.S. military used fluoroscopy to create a system to check soldiers' feet during physicals without having to take off their boots.
Rise of the Adrian Fluoroscope
In the 1930s, Adrian became the major manufacturer of the X-ray shoe-fitting machines or fluoroscopes. They became a fixture in American shoe stores from the 1930s through the 1950s. Customers would slip their feet with shoes still on in the openings at the bottom of a wood cabinet. X-rays produced a fluorescent image of the bones of the feet. Viewing portals at the top of the unit allowed the customer and salesperson to view the images. Some units allowed salesmen to adjust the settings and intensity of the fluorescent image.
Once the dangers of unhealthy exposure to radiation became known and safety standards emerged in the 1950s, the X-ray shoe-fitting machines declined in popularity and were eventually banned. Health risks especially to salespeople exposed to multiple customer scans per day and unshielded radiation from leaky wooden units were especially acute.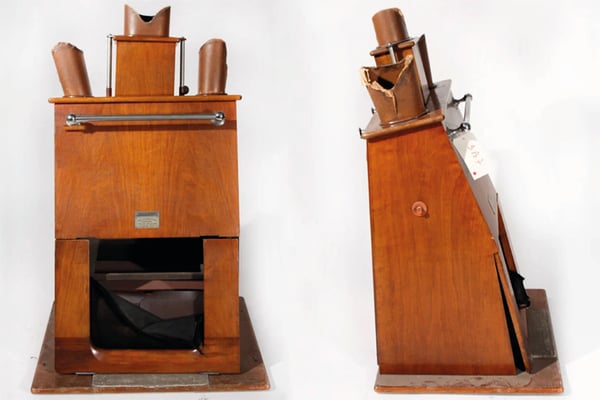 The Brannock Device
Charles Brannock, a resident of Syracuse, N.Y., had a different vision for the future of foot measurement. As a young man in the 1920s, he worked in the Park-Brannock shoe store in Syracuse, co-owned by his father. He realized that accurate shoe sizing was complex and he envisioned a device that could simultaneously measure foot length and width, a significant advance to the simple wooden foot rulers of that time. He sketched out his ideas, built a prototype with his Erector set and began manufacturing a metal-based unit known as the Brannock Device. In 1929, it was patented in multiple countries.
The device gained significant traction from the military. Many sailors during the 1930s had foot problems because they wore the wrong size boots. Brannock developed a specialized version of his device for the military, to measure the right and left foot simultaneously.
The company, based in the Syracuse area in Liverpool, N.Y., reports that it has sold more than one million of its devices, which are still widely used among many shoe stores. Some major footwear brands and retailers have even customized the devices with their logos.
Digital Sizing Gains Foothold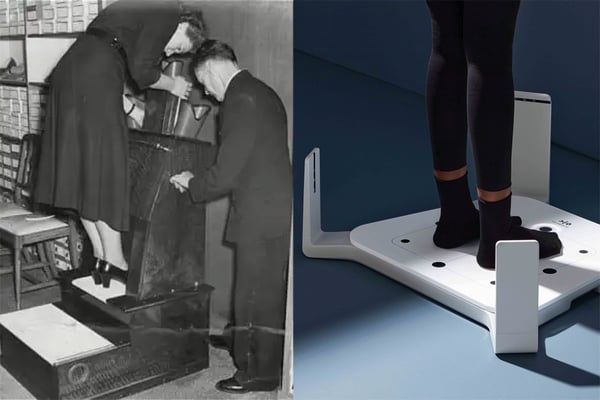 The future of shoe fitting resides with Volumental, as the digital successor to the analog shoe sizing offerings from before – X-ray fitting, the Adrian fluoroscope and the Brannock Device. Our breakthrough technology provides a level of shoe-sizing accuracy unheard of previously. Plain and simple, Volumental helps customers find the perfect shoe.
As a global provider of 3D foot scanning technology, we offer a unique FitTech™ platform that uses a retail 3D foot scanner to measure 12 dimensions of a shopper's feet in as little as five seconds. Our platform combines 3D computer vision, purchasing data from millions of footwear shoppers and AI capabilities to ensure the best fit options, in-store and through the app.
To date, we have scanned more than 39 million feet at more than 3,000 stores across multiple footwear categories. Our customers include New Balance, Fleet Feet, Red Wing Shoes, The Athlete's Foot, Stride Rite and Road Runner Sports, among others.
Even among other digital-sizing companies, Volumental takes a very different approach. We do not scan shoes or insoles, believing that the most accurate method to measure fit is the feet of shoppers who purchased a specific shoe style and size. By analyzing the foot scans of all shoppers who bought the same shoe, the Volumental Fit Engine™ determines how that shoe truly fits. No other measurement device or approach offers such detailed fit data which provides the best sizing and most fulfilling shopper experience.