The explosion of e-commerce during the pandemic helped make online shopping even more appealing and convenient for consumers. Some positive developments for shoppers were ever-faster deliveries, contactless payments, appointment scheduling and curbside pick-up.
Not all e-commerce trends have been positive. Easy product returns -- both fit-based and free returns -- have created an unsustainable return culture for online shopping. Inconsistent shoe sizing and the ready availability of free returns have turned homes into private fitting rooms, where shoppers buy multiple sizes and styles only to send most back. This return culture poses environmental threats from landfill waste, added packaging, product inventory challenges, excessive transport time, and enormous CO2 use by the tens of thousands of trucks and planes making deliveries.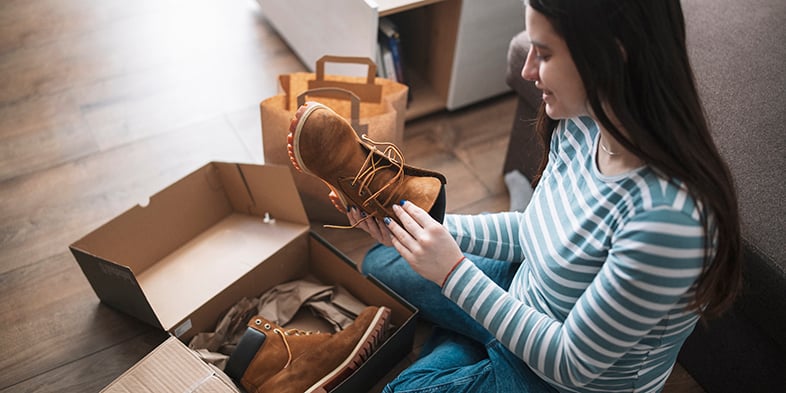 $380 Billion Problem
To understand the scope of this problem, retail industry studies show that e-commerce returns create five billion tons of landfill waste each year and produce as much carbon dioxide annually as three million cars. More than $380 billion in merchandise is returned each year.
With the holiday shopping season now upon us, reducing the numbers of returns can help retailers and brands make headway in being more sustainable at their busiest time of year.
Understanding Fit-Based Shoe Returns
A 2021 Power Reviews survey found that the top three reasons consumers return items are fit (70%), damaged or defective products (65%) and description mismatch (49%). The NRF reports that the total rate of returns is rising, increasing from 10.6% in 2020 to 16.6% in 2021. This translates into nearly one-fifth of all merchandise being returned.
When it comes to footwear, Ales Jurca, VP of Footwear Research at Volumental reports that most shoppers try on at least five pairs of shoes in-store. He chalks up this high number to the many sizing inconsistencies between brands, leaving shoppers hungry for the right fit.
Reducing Numbers of Returns
Retail technology can help retailers increase sales, drive customer lifetime value and reduce returns both in-store and online. Retailers that can deliver an accurate online shoe fit can make progress towards meeting their sustainability initiatives and boost shopper satisfaction.
At Volumental, we offer a unique size-fitting technology that blends 3D foot scanning with purchasing data from millions of footwear shoppers and AI capabilities. The entire scanning and sizing process takes as little as five seconds. Volumental's algorithms mine more than 34 million feet scans to match a customer's feet to other customers with the same foot shape. The fit engine delivers highly personalized shoe style and size recommendations to help ensure a perfect fit.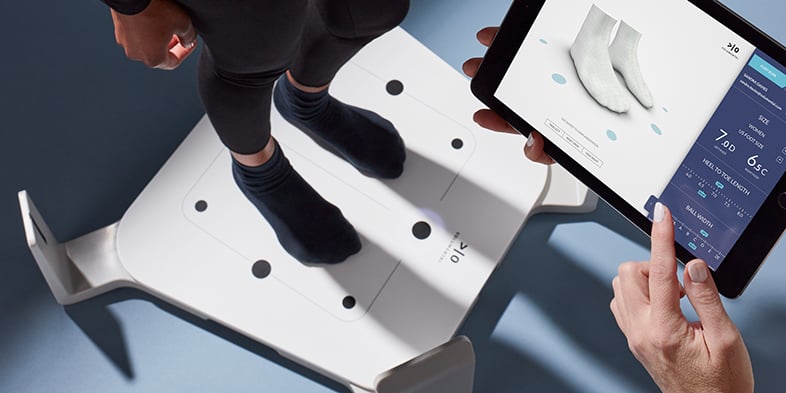 Technology Solution Pays Dividends
The value of this retail technology solution extends beyond the shopper journey. Retailers can convert customer data into customized campaigns to steer more business through the door. Retailers who embrace personalization and product recommendation capabilities realize a 20 percent sales lift. Customer engagement is on the rise too as shoppers access their personalized foot scans on average 4.6 times a year, close to once every other month.
Good News: Consumer Awareness
The good news is that there is a growing desire among consumers to consider sustainability factors in their shopping decisions. It's an ideal time to get customers to use fit technology to help stem the returns tide.
A recent survey of consumers by IBM and the National Retail Foundation (NRF) reported that nearly 60 percent of those surveyed were willing to change their shopping habits to reduce environmental impact. And a majority of that total are willing to pay a premium to shop greener. A Global Sustainability Study by Simon-Kuchar Partners found 65 percent of U.S. buyers consider sustainability when making purchases, up 14 percent from a year ago.
Customers want to incorporate greater sustainability into their day-to-day lives and shopping decisions. Volumental's size-fitting technology gives them an easy way to act more sustainably and stay true to their values.
If reaching sustainability goals is important to your organization, put reducing returns at the top of your company's wish list this holiday season.